18 pcs Tri-Color Refill Ink Tanks
Package included:
-18 pcs Black 2.5ml Refill Ink Tanks. Total 45ml (without refill kits included)
Quality: ISO9001 quality assured.

The DIY Smart refilling kits are an easy and clean way of prolonging the life of your cartridges. This therefore saves you money as well as making them environmentally friendly. When used the refill tanks can be recycled with your household or office plastic waste. The ink refill takes about 5 to 10 minutes.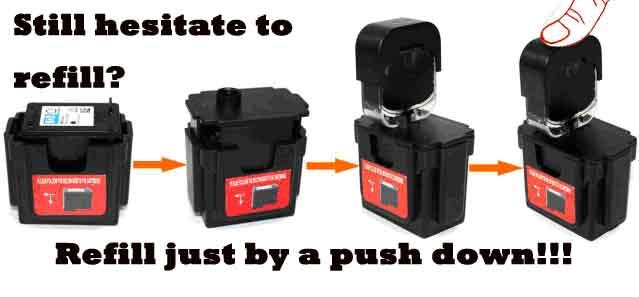 Product Description:
-Ink Type: Pigment based ink
-Color: Tri-Color, 6pc Yellow, 6pcs Magneta and 6pcs Cyan(Blue)

-Used only with the below Smart Refill kits, but wil not included in this listing.

-An easy way of refilling your cartridges
-A cheaper way of printing
-Pack contains 12 pcs Refill Ink Tanks
=18pcs , 2.5 ml each = 45ml

With our smart refill system, you will NEVER need to buy expensive cartridge! Save money, environmental friendly!